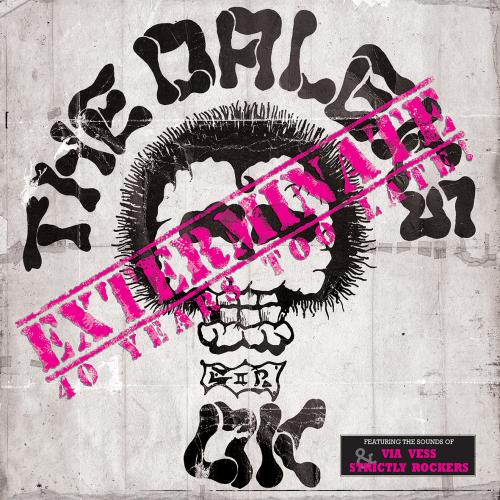 PREIS: 18,00 €
(zzgl.
Versandkosten
bei Versand)
In der Regel sofort lieferbar!
The Daleks
Exterminate: 40 Years Too Late (LP, farbiges Vinyl)

Via Vess / Strictly Rockers
Neuware • GB • 2021 • Damaged Goods
70s / 80s / Punk Rock / Killed By Death
16 Tracks; Compilation; Silbernes Vinyl; Limited Edition.

Limited edition vinyl release featuring original Croydon punks THE DALEKS (1979-80) along with their associated bands STRICTLY ROCKERS (1981) and VIA VESS (1981)!

"... honest, heartfelt songs, steeped in earnest melancholy and charming naivete. Equal parts MENACE, MEMBERS, LURKERS and TELEVISION PERSONALITIES"

"I started the group in the summer of 1977 after listening to "Rattus Narviticus" about 100 times on a church youth club holiday. Slimy Toad's brother, Nicky, who co-wrote "I'm a cunt" with me, had it on tape cassette. I remember we used to turn it right up in the middle of Ugly because Hugh Cornwall shouted "it's only the fucking rich that get to be good looking". And all the church leaders would have a right go at us. That was it. Had to start a band! Up until 1979 just I had a guitar although we had a drummer a singer and a bass player that were going to get their instruments it never happened. I had loads of the songs already written by the time the first other member with an instrument joined. Mark Adams (Bass), who later joined CASE. Then Woodie joined and things started to move quickly with Gaz joining (the original singer). Nicky Fitzgerald, Slimy Toads brother, bailed out when it started to become a real thing. Then Dean replaced Mark Adams." - Eddie Turtle 2021

"I was at school south of London in Caterham in the late '70s and used to hang out in Goodness Records each afternoon spending all my paper round money there. I'd seen 'The Daleks' sprayed on a wall in the town and got chatting to Eddie one day, they were looking for a drummer - The general consensus locally was that he was a great songwriter. I think the band name came from the end of "Remote Control" by the CLASH - 'gonna be a Dalek... I obey!' There was quite a few line-up changes before the record, it was me that suggested Gaz as a front man. He'd just been expelled from my school for dying his hair and looked the part... yellow creepers to boot! It was him that did the artwork for the record sleeve and got all our mates to get photo booth pictures done. We all made the pilgrimage to Broadcasting House at the BBC to take JOHN PEEL a copy. Gaz spoke to him from the phone on reception (while he was in the middle of a show). I only heard one side of the conversation but it went something like 'It's Gaz from the Daleks from Croydon, we've brought you our record to play... it's fuckin' brilliant!'" - Woodie Taylor 2021

STRICTLY ROCKERS: Following the demise of THE DALEKS in the early 80's, Gaz the lead singer and front man of THE DALEKS, was quick to form a new band, STRICTLY ROCKERS, with two local Croydon reprobates Ian and Steve. Gaz and Ian wrote the songs and Steve provided the distinctive percussion. The 3-piece band was born, Gaz was again lead vocals but now sported a bass guitar. Running off the back of the punk rock era the band exploded with collection of up-beat anti establishment songs, the exception to the theme being the classic track 'I Miss You'. The trio played a variety of different venues in the Croydon area, with their favourite haunt being the "Star" in West Croydon where they played regularly. Probably their most memorable gig was with UK SUBS, and the infamous Charley Harper. STRICTLY ROCKERS' popularity was short lived, and within 18 months the trio had gone their separate ways.

VIA VESS: "When Gaz and Roland left, I felt that we would have been successful if we'd stayed together, so, thought I'd call us Virgins of Success, shortened to V of S. Then I thought what about giving it a mysterious twist so ViaVess was how the initials sounded when you said V of S, so that became our "shortlived" name. It was a very short-lived band (3 or 4 months and I was then off following the Meteors full-time)." - Eddie Turtle 2021
Katalog-Nr.: DAMGOOD548 (EAN: 5020422054813)
Trackliste / Inhalt:
A1. The Daleks - Rejected
A2. The Daleks - Man of the World
A3. The Daleks - This Life
A4. The Daleks - Peer of the Realm
A5. The Daleks - Daleks
A6. The Daleks - Suicide
A7. The Daleks - Rejected (1979 Demo)
B1. Strictly Rockers - Stand By Me
B2. The Daleks - Tiny Town
B3. The Daleks - One Small Mind
B4. Strictly Rockers - I Got You
B5. ViaVess - You Wouldn't Know
B6. ViaVess - Transfixion
B7. ViaVess - (I'm Not in Love With the) Rude Girl
B8. Eddie Turtle - I'm a Runt
B9. Strictly Rockers - Miss You

Alle Preise sind Endpreise zzgl.
Versandkosten
. Gemäß § 19 UStG erheben wir keine Umsatzsteuer und weisen diese folglich auch nicht aus (Kleinunternehmerstatus)